Weekend Power Pack
(formerly the BackPack Program)

The Weekend Power Pack (formerly BackPack) Program meets the nutritional needs of children at risk of hunger during weekends. Through the program, kids are given special backpacks filled with nutritious foods. A typical pack will contain: proteins (tuna, beef stew, or peanut butter), vegetables (canned spinach, carrots or green beans), fruits (canned or fresh) and miscellaneous items (fruit juice, multigrain bars, cereal, or pudding cups.)
The backpacks are assembled by volunteers and delivered to a school partner each week. Normally, the packs are distributed on Thursday or Friday, with kids returning them on Wednesday of the following week.
The Food Bank's Weekend Power Pack Program was initiated in October 2005 providing packs for 30 children from one school. As of 2010, the program supports 31 sites providing 141,550 backpacks and logging 13,586 hours of volunteer support.
Teachers and schools have reported improvements in test scores, positive behavioral gains, decrease in number of unexcused absences and an increased recognition of potential career paths.
Donate to the Weekend Power Pack (BackPack) Program!
Kid-friendly food items can be donated at any of our six branch locations.
View our list of Most Needed Weekend Power Pack (BackPack) Program items.
Comments About the Program

"I appreciate the BackPack program because it is a major support system for struggling families."


-A School Principal

"The program is an outstanding service provided for students. It helps to improve the academic performance of students. Students look forward to the backpacks each week."


-A School Teacher

"I think this is an excellent program and it really helps single parents like me; thank you so much from the bottom of my heart."


-A Parent

"I like getting the food to take home and I like that someone thought of me."


-A Recipient Child
For more information about the Weekend Power Pack (BackPack) Program, please contact the Outreach, Evaluations and Programs Manager at 919-865-3037 or via email.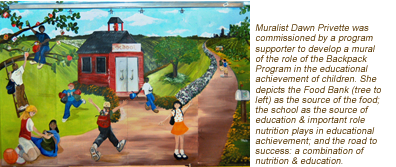 ---

Recognizing the important role that Bayer CropScience plays in America's food production and their desire to be proactive in supporting the next generation of leaders whose families might need additional support in meeting their nutritional needs, Bayer USA Foundation awards an annual donation, which allows the Food Bank to purchase the food, as well as the backpacks and administer the program. Bayer USA Foundation has provided generous financial support for the program since 2006.